another magazine (UK)
http://www.anothermag.com/
被《号外》主编黄源顺誉为本时装季最好看的一本时装杂志。
———————————————————————–
Purple (France)
http://www.purple.fr/
一本优雅的杂志,小八开独特开本,简约雅致的设计风格衬托出Purple风格的影像之美。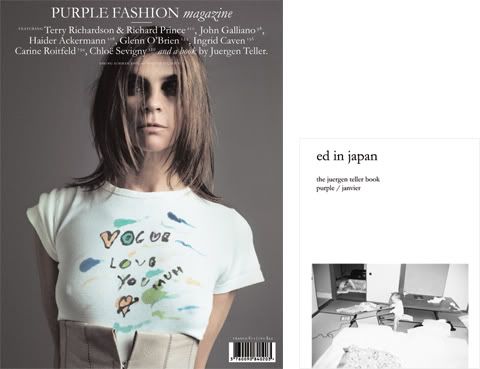 ———————————————————————
pictured (UK)
http://www.picturedinternational.com/
一本来自英国的影像资源杂志
—————————————————————————————–
spoon magazine (England)
一本定期发行的时尚摄影画册,内容由视觉冲击力先行的时尚影像构成.另有 spoon beaty 和 spoon men 两本分册。
http://www.spoonlive.com/
———————————————————————–
VISIONAIRE (USA)
这本结合艺术与时尚的影像杂志自1991年推出,可说是杂志中的劳士莱斯。
http://www.visionaireworld.com/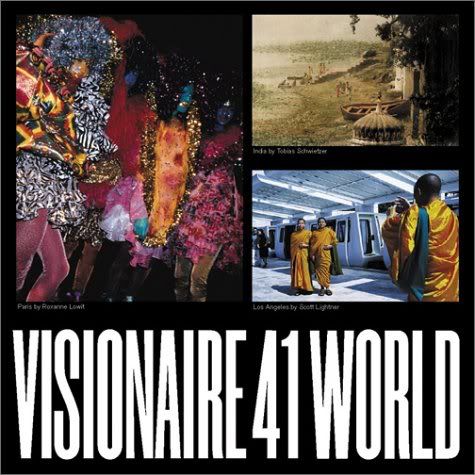 ——————————————————————–
I-D (UK)
杂志领域标识性最强的刊物,一直坚持的半闭眼封面,以扎实的时尚摄影报道功底与在青年文化之中的敏锐触角占据江湖地位。
http://www.i-dmagazine.com/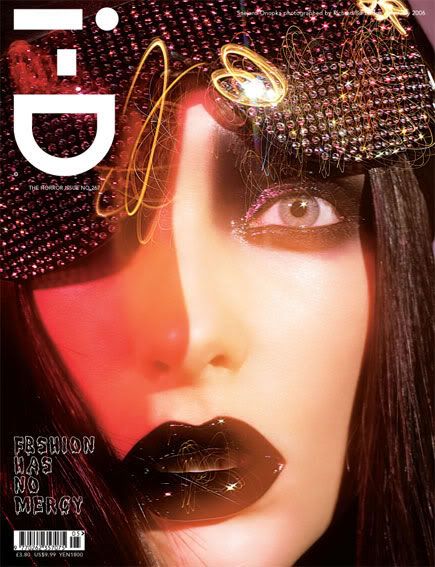 ————————————————————–
THE FACE (UK)
一本英国青年时尚文化杂志
被奉为反传统[主流]文化的圣经/权威杂志(bible of counter-culture/anti-establishment)或被标榜为(bible of cool)
Emap官方2004年3月22日宣布THE FACE暂时停刊
http://www.theface.co.uk/
—————————
wallpaper (UK)
代表建筑室内设计尖端品位,以前专注于建筑家具的圣经杂志,现已改版成为一本全面的时尚品位杂志。
http://www.wallpaper.com/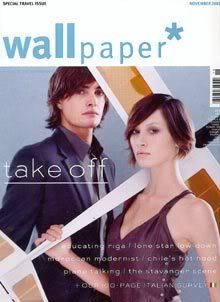 ——————————-
BEople (Belgium)
http://www.beople.be
BEople 为全英文、全球发行的季刊,涉及艺术、时装、文学、建筑 等生活方式的各方面,向读者传达了比利时文化、艺术、生活方式、 时装、音乐的信息和内涵。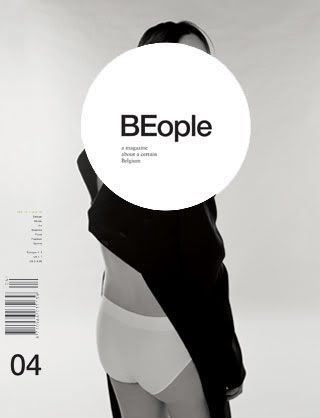 ———————————————-
Ad!dict
http://addictlabbie.com/ADDICTLAB/
Ad!dict = performing artist + musician + materials specialist + photographer + graphic designer + interior designer + writer + fashion designer + brand marketer
—————————–
Tank
http://www.tankmagazine.com/
Tank magazine showcases an ingenious blend of imagery from fashion, art, graphics, photojournalism and design in a 'bookzine' format. Resisting celebrity worship and PR-led editorial in favour of experimentation and rising voices, Tank gives new life to magazine publishing.

————————————————-
V
http://www.vmagazine.com/
V magazine is published every two months by Visionaire publishing. Steven Gan is creative Director, Editor-in-Chief is Alix Browne, and Tabitha Simmons is Fashion Director. Mario Testino and the Lamsweerde & Matadin team are regular contributers-V also attracts most big name photographers. Advertising is above average. V magazine's large size and superior printing (eg. American printing) make it a great collectors item and a favourite amongst American Art students. V began as a fold-over edition with metallic text, but changed to flat format with flat colouring text within a year. V magazine began publishing with the anticipated September/October 1999 issue. Larger images of the covers can be seen at the V magazine website.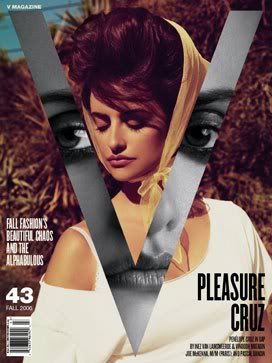 —————————————
Numero
http://www.numero-magazine.com/
French Numero is published ten times a year in France by JYL Presse SA. Jean-Yves Le Fur is Director, Thomas Lenthal is Creative Director. Numero began publishing with the March 1999 issue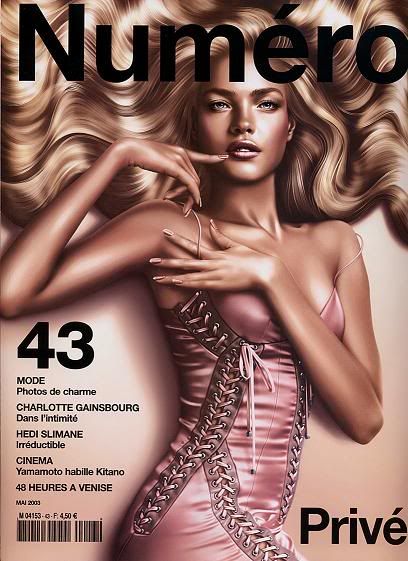 ———————————————————-
stern Spezial Fotografie
http://www.stern.de/
一本来自德国的摄影册。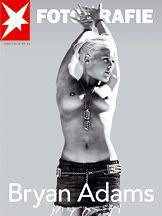 ———————–
V MAN
This dynamic, visually driven partner publication to V Magazine, is a lifestyle and fashion magazine focused on the young, sophisticated and discerning male looking for everything current and cutting edge in the fields of art, fashion, design and everyday living.
http://www.vman.com/index.php
———————————————————
md
International Magazine of Design
'md' is the international magazine on furnishings, interior design and architecture. 'md' covers design as it pertains to that large field of dwelling, eating, sleeping and indulging in hobby or leisure-time activities, as well as office and home-office. 'md' is published monthly in German, English and French.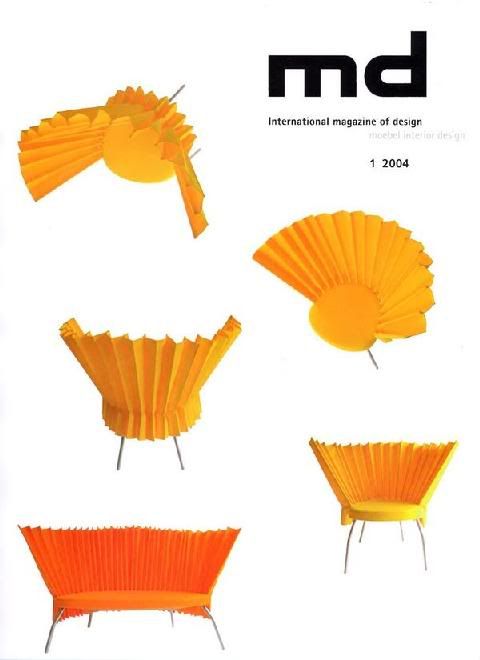 ——————————————————-
————————————————–
Big
http://www.bigmagazine.com/
Big magazine born in Spain over ten years ago,Big paved the way for dozens of titles in its path,yet remains unrivaled in its field.Distributed throughout the US,Europe.South America,Asia and Australia,the magazine continues to break new ground,both creatively and geographically.

—————————————————-
tiger
tiger is a screen magazine on the internet, and there is no printed tiger. As long as you have the internet connection, it is free to browse at anytime.
http://www.tigermagazine.org/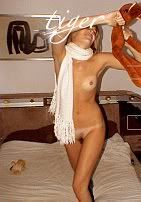 ——————–
B&W (CA)
B&W Magazine is the premier high-quality magazine of black and white photography for collectors of fine photography.
B&W is primarily a magazine for collectors of fine photography. At the core of each issue are 10 Spotlight articles that feature a selection of work by collectible artists—mature masters as well as promising emerging photographers. All images in this section are available for purchase from the artists directly or from their gallery representatives. In addition to the Spotlight section, there are departments on auctions, news, museum exhibition listings, and book reviews, as well as in-depth interviews with collectors and photographers. Each issue contains in excess of 200 illustrations and is therefore also an invaluable source of inspiration to photographers and other individuals interested in fine art photography.
http://www.bandwmag.com/
————————————
Blind Spot
Blind Spot Magazine has become the international source book of photography-based fine art for artists, collectors, creative directors, designers, curators and art lovers. Blind Spot publishes new works by the world's most renowned artists and discovers vital new work by up-and-coming artists. The collaboration of the editors and the ideas expressed by the individual artists make each issue of Blind Spot emerge as a single work of art.
Blind Spot's uncompromising reproduction standards and elegant design have set a precedence for other art magazines. The design is absolutely sensitive to its contents. The true force of Blind Spot is its passion for art, its understanding of the artists and its exquisite packaging of ideas.
http://www.blindspot.com/
——————————————-
IdN
International designers network
http://www.idnworld.com/
————————————————————————————–
Brutus Casa (Japan)
http://www.brutusonline.com/casa/
亚太地区最受建筑界、设计界、时尚界和出版界瞩目的杂志
——————————————–
COLORS (Italy)
http://www.benetton.com/colors/
在人居、种族、艾滋病、饥饿等话题上塑造着属于全球大同的话题影响力,如今正成为杂志工业中的模范杂志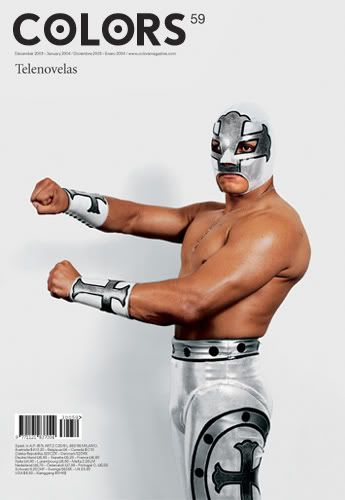 ————————————————-
Q (UK)
http://www.q4music.com/
英伦三岛最知名的音乐杂志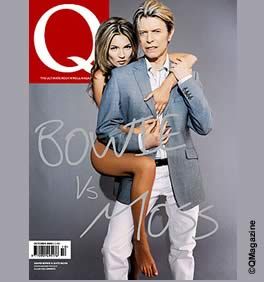 ————————————–
東西雜誌 west east magazine (Hong Kong)
http://www.westeastmag.com/
看到《東西雜誌》,就同时感受到西方与东方。杂志左上角的logo「WE」是英文的,但是设计成长方形,像是一个中国的印玺。杂志內容以英文为主,配合中文的摘要说明。
在2002 年,法国相当有影响力的广告与行销媒体《CB新闻杂志 (CB News)将《東西雜誌》选为全球最in的9本杂志之一(most "IN" magazine in the planet),称赞它「橫跨东、西两方文化的角度、观念、內容,为世界的出版带来新意。」
———————————————————
號外 (Hong Kong )
《號外》杂志始创于1976年,为香港唯一一本屹立了四分一世纪的城市生活潮流月刊,一直以尖刻独到的生活触觉监察各方如时装、餐饮、家居、建筑、设计、美艺、环保、视像、音乐、阅读、文化及艺术等不同层面的发展,由HI-TECH到LO-TECH,又由LOW KEY到HIGH TOUCH,并以摩登时髦的视觉手法表现,让读者內外兼全的享受摩登城市的生活快感。
http://www.cityxtra.com.hk/
——————
GAS BOOK (Japan)
http://www.hellogas.com/
GAS BOOK series is a design book series; each volume containing a retrospective collection of works of contemporary designers who take leading parts in the fields of moving image, graphic design and magazines. The contents are comprised of affluent visuals and in-depth texts.
————————————–
SPIN (UK)
http://www.spin.com/
"ALL THE MUSIC THAT ROCKS"
—————————–
VISION 青年视觉 (China)
http://www.youthvision.cn/
Vision is a highly distinctive large-scale fashion and lifestyle monthly magazine with its own unique taste and perspective among Chinese media in the 21st century.
Vision Magazine stands for: New century city life not only requires convenience, high tempo and fashion but also demanding quality, a sense of beauty, comfort and concern for culture.
An ultra-refined design philosophy, elegant full-color printing and imported paper binding give readers and advertisers a truly high-value return.
—————————————–
Design 产品设计 (China)
http://www.artdesign.com.cn/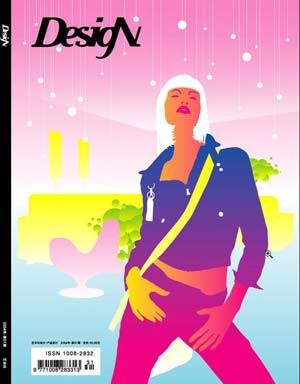 ——————————————-
The Outlook Magazine 新视线(china)
《新视线》是现代传播集团2002年4月推出的高级男性杂志,旨在开创本土成功高档男性杂志的先河。
http://www.theoutlookmagazine.com/
————————————
CityMagazine 生活(china)
《生活》便是《号外》踏入第三十年后的一个升华结晶,一本终极杂志。以"从心出发、自在生活"为定位、倡导"令优质精神心生活成为可能",《生活》杂志将以BOOKART的概念创作,以超越、观省、意象的审美方式,以诗意、神韻、气道的最具象征性方式作最高形态表现,将人的生活本质和客观现实和谐结合,力求直指观者感性,发挥最大互动.
http://www.citymagazine.com.cn
————————————————————————
Mangazine·名牌(china)
mangazine·名牌明的关键词是"男性"(mangazine·名牌是为数不多的男性杂志中的一本),暗的关键词是"精英"(mangazine·名牌是唯一一本精英杂志)。
http://www.nanfangdaily.com.cn/mp/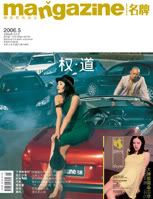 —————————–
周末画报(china)
《周末画报》创刊于1980年,至今已有26年历史,最高发行量高达150万份,于1998年12月重新改版,成为新世纪中国精英读品。
2005年,《周末画报》获得由"2005欧莱雅风尚媒体大奖"颁发的"风尚生活时尚报纸专家奖"。
http://www.modernweekly.com/